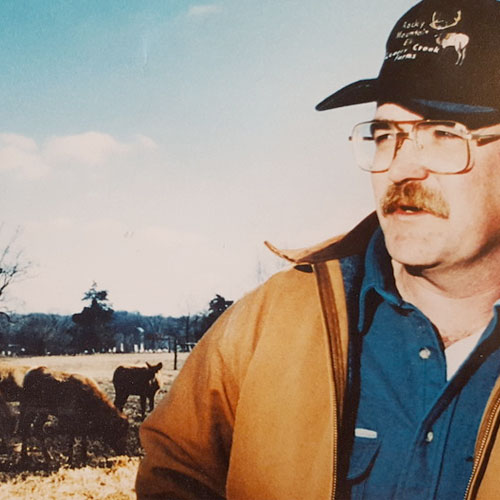 Forever In Our Hearts
Steve Daugherty
March 19th, 1958 – January 30, 2014
Molly
1992-2012

Quarry Creek Farms was established in 1989 by owners Kathy Anderson, Jim Kannenberg and the late Steve Daugherty in Augusta, Iowa. The farm started with Cattle and other livestock until 1992 when we purchased our very first elk, Molly, from Rush and Inez Johnson of Bucklen, Missouri. (Rush Johnson is credited with beginning the elk industry in North America.) We fell in love with the elk business when we first laid eyes on Molly. She was only fourteen days old and was being bottle-fed by Rush and Inez. Jim and Kathy continued to bottle feed and raise Molly in their own back yard until she was old enough to be moved out to the farm. Molly lived a great life on the Farm and passed peacefully away in the Spring of 2012, living way beyond the 13 year life expectancy of elk. We added Buffalo (bison) in 1998 to further diversify our farm. Today about 40 elk and 40 head of buffalo reside at Quarry Creek Farms and each Spring more babies are born. Our Elk and Buffalo are raised primarily for breeding stock, velvet and meat.
In 2002 we added our store front, Quarry Creek Elk & Bison Company, and expanded our love of all things unique. Visitors come from all over the United States to check out the live Elk and Buffalo roaming the fields, witness our large display of North American Mounts, experience the delicious Elk & Bison meat, and shop our ever-expanding unique inventory!
We Look Forward To Meeting You!
Jim & Kathy